From Vos Iz Neias----

http://www.vosizneias.com/24589/2008/12/21/brooklyn-ny-lawyer-asks-ag-mukasey-to-intervene-in-mondrowitz-case/

Brooklyn, NY - Lawyer Asks AG Mukasey To Intervene In Mondrowitz Case
Brooklyn, NY - Michael Lesher, an attorney who has pursued the Mondrowitz case for more than ten years, and who now represents six men who are among the hundreds of Mondrowitz's alleged victims, has written to Attorney General Michael Mukasey to inform him of the critical posture of the case. The Justice Department, headed by Mukasey, is actively seeking Mondrowitz's extradition, which was ordered by Israel in November 2007 but which Mondrowitz appealed to Israel's Supreme Court.
Lesher, who says he has never been paid for any of his work on this case, wrote to inform Mukasey that the arguments Mondrowitz presented to a panel of the Supreme Court on December 8 -- which seemed to be favorably received by at least one of the three judges -- were clearly contrary to the law and the facts of the case, in Lesher's opinion. His letter cites legal precedents and a previously unpublished document which allegedly disproves Mondrowitz's claim that the current extradition request is untimely.
Lesher expresses particular concern about the idea discussed at the December 8 hearing of trying Mondrowitz in Israel instead of Brooklyn, where all of the crimes for which he was indicted were allegedly committed. Based on documents he has obtained over ten years of research and FOIA appeals, Lesher argues that having Mondrowitz tried thousands of miles away from his alleged victims "would likely result in a grossly inadequate sentence, which would hardly serve the interests of justice -- or of the victims." He notes that Mondrowitz was indicted for thirteen counts of first-degree sodomy and first-degree child abuse, among other charges.
The Attorney General has not responded to the letter. The only American politician that has made any comment about the Mondrowitz case, is Brooklyn Asmblyman Dov Hikind who released the following press release:
"I am deeply disappointed by the recent reports that Rabbi Avrohom Mondrowitz may not be extradited from Israel to the United States to stand trial for his heinous and criminal actions. This development is a great set-back in the war on sexual abuse in the Orthodox Jewish community.
The Supreme Court of Israel should reconsider their decision to give state prosecutors additional time to determine if Mondrowitz can instead be tried in Israel, where he will surely face a lesser sentence.
"I urge the Israeli authorities to cooperate with Brooklyn DA Charles Hynes to set the proceedings back on course to ensure that this pedophile will finally be brought to justice. After 25 years, the Mondrowitz victims deserve no less." said Hikind.
Letter Of MICHAEL LESHER, ESQ To AG Mukasey On The Mondrowitz Case
==================================================================
Michael Lesher Says:
I'm pleased to see this post. Maybe readers would like some contact information in case they have comments for public officials involved in this case:

Brooklyn D.A.'s office, sex crimes unit head: JausR@BrooklynDA.org and Orthodox community liaison: WhiteH@BrooklynDA.org.

U.S. State Department, the public communication division phone: 202-647-6575. The main switchboard is 202-647-4000.

Israel's Ministry of Justice, public inquiries fax: 011-972-2-646-6357.

Israel's High Court, Public Affairs Department. Phone is 011-972-2-675-9612 and 011-972-2-675-9613. I believe their email address is: tlunotrasham@court.gov.il and the fax number is 011-972-2-651-3191. Bear in mind it's not proper to try to influence judges, but people can certainly express their interest in the case and in continuing to follow it.

Tizku l'mitzvos.
===================================================================
Last update - 00:00 10/02/2008
Court rules to extradite alleged U.S. serial molester Mondrowitz
By Ofra Edelman, Haaretz Correspondent
Alleged child molester Avrohom Mondrowitz can be extradited to the United States, the Jerusalem District Court ruled on Sunday.
Mondrowitz, a member of the Ger Hassidic sect in Brooklyn who posed as a rabbi and psychologist specializing in treating troubled children, fled to Israel in 1984 as New York law enforcement authorities were preparing to arrest him.
In 1985 he was charged with sodomy and other sex crimes against five minors, aged 9 to 15, from the ultra-Orthodox community in Brooklyn. The case first came to light after a report in Haaretz Magazine (November 17, 2007).
The U.S. Justice Department twice applied for his extradition, but legal hurdles prevented this until now. The first extradition request was denied because at the time, 22 years ago, sodomy was not an extraditable offense under the IsraeliAmerican extradition treaty.
The treaty was amended in January 2007, making it possible to extradite anyone who has been charged with a crime that carries more than a one-year prison sentence.
The U.S. submitted a second extradition request in September 2007, and two months later Mondrowitz was arrested in Jerusalem.
In Sunday's court decision, Judge Nava Ben Or ruled that since legal reasons prevented bringing Mondrowitz to justice, the statute of limitations on the crime with which he was charged stopped running the moment Mondrowitz arrived in Israel.
With the statute of limitations still valid, she ruled, he can be extradited to the U.S.
Related articles:
===================================================================
http://www.internationalextraditionblog.com/2008/02/extradition-of-abraham-mondrowitz.html#_ftn1e
Thursday, February 14, 2008
Extradition of Abraham Mondrowitz Approved by Israeli Court
An Israeli court recently approved extradition to the U.S. of an American Orthodox Jew, according to the Justice Ministry.
[1]
Abraham Mondrowitz, a member of the Gur Hasidic Jewish sect, was wanted on suspicion of multiple sexual attacks that occurred over twenty years ago.
[2]
Mondrowitz, now 60, was arrested in Jerusalem in November of 2007 for the alleged abuse of a number of children at his home in Brooklyn, New York which also doubled as his private clinic.
[3]
He fled to Israel in 1985 while police were still investigating him for these charges.
[4]
Moshe Cohen, the spokesman for the Israeli Justice Ministry, noted that while the Jerusalem District Court had approved the extradition order, Mondrowitz still retains the right to appeal.
[5]
The final decision on whether to extradite Mondrowitz will ultimately be made by the State, according to Court spokeswoman Tal Rosner.
[6]
In September of 2007, the United States resubmitted an extradition request for Mondrowitz that was originally made a few months after he had fled New York for Israel in 1985.
[7]
According to the Israeli state prosecutor's office this renewed U.S. request follows the amending of the extradition treaty between Israel and the United States to include those crimes whose punishment is more than one year imprisonment.
[8]
Prior to the change, which took effect last year, sodomy was not included in the extradition treaty between Israel and the United States.
[9]
For an individual to be extradited the offense charged must be a crime in both the country requesting extradition as well as the country to which such request is made.
[10]
To fulfill this obligation, it is not required that the name of the offense allegedly committed in a foreign country nor its elements be identical to the name and/or elements of a similar offense in the United States.
[11]
It is sufficient that the conduct involved is criminal in both the requesting and requested countries.
[12]
If the particular crimes alleged are criminal in both jurisdictions than any dual criminality provision in the applicable treaty is satisfied.
[13]
Federal criminal defense attorney Douglas McNabb has written extensively on extradition law and has been quoted in articles pertaining to the case of Abraham Mondrowitz. Some of Mr. McNabb's articles on International Extradition law can be found
here
. For further information on the Mondrowitz case click
here
.
===================================================================
http://www.theawarenesscenter.org/Mondrowitz_Avrohom.html
The Awareness Center is the Jewish Coalition Against Sexual Abuse/Assault (JCASA)
www.theawarensscenter.org
Case of Rabbi Avrohom Mondrowitz, M.Sc., Ph.D., L.N.H.A
(AKA: Abraham Mondrowitz, Avraham Mondrowitz, Avremel Mondrowitz)
This page is dedicated to all of those who were sexually victimized by Rabbi Avrohom Mondrowitz; and also a dedication to those who lost their lives as a result of the crimes committed against them.
Born - Poland
Tel Aviv, Israel
Chicago, IL
Psychologist, Ohel Childrens and Family Services - Brooklyn, NY
Fundraiser, Jerusalem College of Technology - Jerusalem, Israel
December 3, 1984 -- Brooklyn District Attorney Elizabeth Holtzman's office said Mondrowitz was named in an arrest warrant charging him with two counts of sex abuse". At the time, Rabbi Avrohom Mondrowitz worked in special education school for boys in Brooklyn, that had connections with Ohel Children and Family Services in Brooklyn, New York. He was responsible for about 20-25 young children who already had either emotional problems and/or learning disabilities.
October 11, 2007 -- Brooklyn District Attorney Charles Hynes finally signed papers requesting the U.S. Justice Department extradite Rabbi Avrohom Mondrowitz back to the United States. Fled to Israel months after charges were first brought up against him twenty-three years ago.
November 16, 2007 -- Israeli police arrested Avrohom Mondrowitz, a Gur Hasid who was suspected of sexually abusing children in the United States was arrested pending extradition orders to the U.S.
November 18, 2007 - At the extraditon Hearing for Alleged Serial Child Molester, Rabbi Avrohom Mondrowitz, the judge extended Mondrowitz's detention until November 27, at which point he will decide whether Mondrowitz will remain in jail or be placed under house arrest. Mondrowitz's attorney, David Ofek, said he plans to appeal the decision to keep Mondrowitz in custody.
November 29, 2007 - The Israeli Minister of Justice released that Mondrowitz's extradition case is being handled by the Department of International Affairs of the Office of the State Attorney (prosecutors Nili Gesser and Marlene Mazel-Herskowitz) and in cooperation with the Israeli Police's Interpol Department.
---
Avrohom Mondrowitz is originally from Chicago, the son of a highly respected rabbi.
Mondrowitz, who was born in Poland in 1947, relocated as a child to Tel Aviv and later moved with his family to Chicago. He is the son of a prominent rabbi. In the late 1970's Mondrowitz moved to Brooklyn, NY in the late 1970s and presented himself to Orthodox educational institutions as a rabbi and clinical psychologist.
While in New York Modrwoitz provided psychological treatment to children from the mixed Jewish-Italian Borough Park neighborhood where he lived. He also opened a yeshiva for children with behavioral problems.
Four children, all from Italian families and all neighbors of Mondrowitz, complained of sexual abuse perpetrated by Mondrowitz. Jewish victims also eventually testified against him, but only after the statute of limitations had expired.
In 1985, a New York State court charged Mondrowitz with eight counts of child abuse in the first degree, endangering the welfare of a child and five counts of sodomy in the first degree.
Mondrowitz and his family fled to Jerusalem after a warrant was issued for his arrest.
At the time of the indictment, sodomy of boys was not an extraditable crime, since it was not defined as rape under Israeli law. In 1988, the Knesset changed that law, apparently opening the way for Mondrowitz's extradition.
===================================================================
http://www.villagevoice.com/2006-07-18/news/silence-of-the-lam/
Silence of the Lam
Accused of Sexually Abusing Young Boys, a Brooklyn Rabbi Lit for Israel 22 Years Ago. Now One Alleged Victim Wants Him Brought Back for Trial
By Kristen Lombardi
The Village Voice
July 25, 2006
http://www.villagevoice.com/news/0630,lombardi,73955,2.html
Abe vividly remembers
that wall. The "bragging wall," as he's come to call it, was crammed with certificates and diplomas. He remembers fixating on that wall as the Hasidic psychologist advised him on how to be a good boy. He fixated on it, too, when the psychologist sat beside him, the man's hand shoved down his pants, stroking Abe's genitals.
Abe was eight years old, the defiant son of a devout Orthodox Jewish family who was sent to the child psychologist in Borough Park, Brooklyn. Every Sunday for four months in 1984, he'd go for counseling in the modest house on 60th Street. Sessions started with talk of his behavior—his mischief at home, his disobedience at yeshiva. Goals were set, rewards promised. Then, Abe alleges, the psycho- logist's hand would be in his underwear.
"He would fondle and play with my genitals," says Abe, now a thirtyish businessman not willing to publish his last name. For this former Borough Park resident, whose Orthodox faith taught him to revere elders, the encounters were devastating. "I felt very odd, ashamed. I didn't know what to think."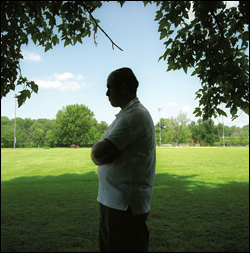 Out of the shadows: Abe asked the Brooklyn D.A. to reopen the case against Rabbi Mondrowitz.
Photo by Tacy Kranitz
Abe hid the abuse for two decades, not telling a soul, yearning to get on with life. Until, in May, he discovered what had happened to the man he claims molested him: He got away.
That child psychologist was Avrohom Mondrowitz, Abe says, the same one charged with sexually abusing four Brooklyn boys in February 1985. Once a popular radio host whose Orthodox audience had known him as "Rabbi," Mondrowitz skipped town before police could arrest him. He surfaced later in Israel, where he's lived for two decades. (Mondrowitz, now 58 and reportedly in Jerusalem, could not be reached for comment.)
Abe isn't one of those four boys. He stopped his sessions in the summer of 1984, never to see Mondrowitz again. All these years, he's had no idea his alleged abuser was indicted for molesting kids, on charges that included sodomy. Abe learned of the outstanding case from a mention in a May 22 New York article about an ultra-Orthodox rabbi accused of sexual abuse.
Seeing the name in print left Abe stunned. He went online, discovering postings about the self-styled rabbi on sites for Jewish survivors of sexual abuse. Reeling, he contacted an attorney. And last month, he identified himself as a victim to the office of Brooklyn District Attorney Charles Hynes.
Explains Abe, "I could tell this guy was guilty as heck and I had to do something. He needs to be brought to justice."
The D.A.'s office confirms that Abe appeared at its Jay Street headquarters in June. Prosecutors interviewed him and recorded his complaints. Hynes can do little about the allegations because they fall outside the five-year statute of limitations for sex offenses, according to Rhonnie Jaus, chief of the sex crimes bureau. All Hynes can do is try to use Abe's testimony as supporting evidence against Mondrowitz at trial.
Jaus maintains that Hynes is still pursuing the 1985 case. The indictment against Mondrowitz is pending; her bureau remains in touch with the original victims, now in their thirties.
"We stand ready, willing, and able to prosecute him for his heinous crimes," Jaus states. "If he returns to this country, we would arrest him. We would prosecute him. We would do everything we could to achieve justice in this case."
But there's a lot more Hynes could be doing to achieve justice, it seems. The one person who can reopen the push for extradition is the Brooklyn D.A.; he calls the Justice Department, Justice calls State, State calls Israel. That's how it works. Michael Lesher, the New Jersey attorney who represents Abe, believes Hynes could force Mondrowitz to stand trial, if only Hynes would take a more aggressive stance. Past efforts to extradite Mondrowitz failed only because of a technicality. Under a 1962 treaty, the United States and Israel have agreed "reciprocally to deliver up persons found in its territory who have been charged with . . . offenses mentioned [and] committed within the territorial jurisdiction of the other." This U.S.-Israel extradition treaty lists 31 crimes, including rape. You might think the sodomy charges against Mondrowitz would fit that category. In 1985, though, Israeli law defined rape narrowly as "having sexual intercourse with a woman without her free consent." Oral and anal raping of boys—among the acts of which Mondrowitz is accused—weren't crimes by Israeli standards.
Today, that loophole has been all but closed. Israel has amended its rape law to recognize males as potential victims, making the act of forcible sodomy a crime punishable by 20 years in prison. Lesher argues the change opens the door to revisit the case. "In theory," he says, "there's no reason for Hynes not to request extradition."
Extradition lawyers second his opinion. Richard Bierschbach, who teaches criminal law at Cardozo Law School and who has worked on such cases, tells the Voice, "I think he would be extraditable now." Changing the law, he says, effectively changed the treaty. Courts have ruled that modifications to treaties can be applied retroactively, without violating a fugitive's due-process rights. "You can say with a fair degree of confidence that sodomy is now an extraditable offense."
Even Mondrowitz's attorney suggests that extradition isn't out of the question. Reached in his Tel Aviv office, David Ofek says he didn't believe the charges against his client when defending him in the 1980s, and he doesn't now, calling them "all lies." Mondrowitz has not been charged with a crime in Israel. Nor has anyone accused him of child molestation there. In a heavy accent, Ofek adds, "I found him to be a marvelous and gentle person, and I don't think he's touched a child."
Still, Ofek acknowledges that sodomy is a crime equal to rape in Israel—one that, in general, is extraditable. "It's a very serious crime," he says, "and we don't like people like that."
So does that mean his client could be extradited? "After 20 years," he tells the Voice, "try to do it."
---
Mondrowitz was a
celebrity to start, a Hasidic Frasier of sorts, hosting the call-in program Life Is for Living at the now defunct WNYN radio station, doling out advice over the airwaves. But in a five-page criminal indictment, prosecutors painted Mondro-witz as an insatiable abuser who allegedly preyed on four boys, ages nine to 15, over four years. The 13 counts against him include eight of sexual abuse in the first degree, five of sodomy in the first degree.
The indictment may tell only a fraction of the story, says Sal Catalfumo. Now retired, he was the main sex crimes detective who investigated Mondrowitz for four months beginning in November 1984, when the Brooklyn South precinct got an anonymous tip about a rabbi. "There were a lot of kids and a lot of allegations," he says.
Catalfumo identified about a dozen victims to then Brooklyn D.A. Elizabeth Holtzman, whose office pressed charges on the four strongest cases. He had interviewed dozens more, he says. Initially, investigators had suspected Mondrowitz singled out Orthodox Jewish children who attended his special-education class at a Foster Avenue yeshiva or his child-counseling practice on 60th Street. Catalfumo says he ended up discovering victims from Italian Catholic families living on the same street as Mondrowitz did. Some served as altar boys at a nearby church. Others played with his seven kids. Two were prepubescent sons of Catalfumo's former high school classmate.
"Children told me and my partner that he would be molesting them in one room while their parents would be waiting in the next," Catalfumo recalls. When police searched the office, he says, they uncovered child pornography in the desk drawers.
By the time police had drawn up an arrest warrant, in December 1984, Catalfumo says, "The guy was gone. He escaped, and he's never had to face the music." All these years later, the former investigator cannot quite put this unresolved case behind him. He cannot quite forget about those, like Abe, who claim to be victims.
Confides Catalfumo, "Personally, I'd like to catch this guy. He shouldn't be able to evade prosecution for the rest of his life."
---
The Mondrowitz case
has also haunted Abe's attorney. Lesher's made a lonely campaign out of researching it, filing freedom-of-information requests to obtain classified records. Beginning in 1999, he spent two years collecting documents from the U.S. State and Justice departments chronicling the feds' battle to extradite the fugitive—a battle that stops in 1993, courtesy of Hynes. Lesher shared his files with the Voice for this article. (The Justice Department declined to comment on the case, referring questions to State; its spokesperson refused even to speak generally about the U.S.-Israel extradition treaty.)
The paper trail starts just as the indictment was about to come down. In January 1985, according to the records, D.A. Holtzman's office began pushing the feds to bring Mondrowitz back to Brooklyn for trial, calling the Justice Department. Two months later, her office made a formal request for "the provisional arrest in Israel of Avrohom Mondrowitz." Prosecutors sent along materials for extradition in September, and kept in contact with their federal counterparts for the next two years. Internal records suggest that Washington officials felt substantial pressure from Holtzman.
"Natives of Brooklyn are becoming restless," reads one February 1986 memorandum, "and we are receiving calls from Kings County District Attorney's Office."
Another cable, dated November 1986, reports that the Israeli official on the case "has from time to time been in telephonic communication directly with the prosecutor's office in New York City to discuss the matter."
Yet another, from March 1987: "Relay the gist of this development to prosecuting attorney handling this case [who] had phoned on February 17."
Now a Manhattan attorney specializing in government relations, Holtzman declined to discuss her office's efforts to seek extradition. "I can tell you that we didn't sit on cases like that in my office," she says.
Still, these early requests were stymied. As early as 1985, Israeli officials had informed the U.S. that rape, under Israeli law, didn't cover sodomy. "The Mondrowitz case as presented cannot be acted upon under the terms of the existing U.S.-Israel extradition agreement," states an April 1985 cable.
Federal officials got creative and asked Israel to consider expelling Mondrowitz, then an American citizen on a tourist visa. For years, the case sat in a kind of legal limbo.
And then, in February 1987, after a change in leadership, the Israeli Interior Ministry ordered Mondrowitz deported to Brooklyn. Ofek appealed to the Israeli Supreme Court, asking for a stay and seeking access to the U.S. extradition package. It included four affidavits from John Doe victims. It also included a letter, purportedly written by a Borough Park social worker, charging that Mondrowitz had infected 28 boys with HIV/AIDS. The claim would be stunning now; back then, it was made more so by the fact that so many people didn't understand the virus.
"When you say, 20 years ago, that the man had infected children with AIDS, it means that the man would kill children," Ofek says. There were no drug cocktails in 1987. Not many hospitals in Israel could administer an HIV test. Eventually, Ofek says, his client found one. The results came back negative. The court threw out the deportation order. "The United States wanted extradition and the Israeli government wanted to deport him—and I stopped it."
---
To hear Hynes's office
tell it now, extradition represents the one barrier to prosecuting this case. Just last May, Jaus says, her bureau reviewed its files and consulted with Israeli legal authorities, as well as federal officials. The verdict? "Under the current treaty," she reports, "he is charged with a non- extraditable offense."
Or not. In 1988, Israel amended its rape law to cover the act of homosexual rape. Internal federal letters make note of the change, urging a second look at extradition.
"An amendment to the Israeli penal code . . . presents us, we believe, with an opportunity to reopen the extradition case of Avrohom Mondrowitz," reads one March 1988 telegram from the American embassy in Tel Aviv to the State Department in Washington, D.C.
Interestingly, no records show that federal officials called Holtzman to relay the news. And there is nothing to suggest that her office was keeping abreast of the developments, or even knew about the change. Just when the U.S. may have gained proper grounds to extradite Mondrowitz, the paper trail fades.
But if Holtzman missed a key opportunity, Hynes has apparently plain sat on the case. He became the D.A. in 1990. In the federal file, there is no record of any activity from Hynes on the matter until 1993, when Justice officials called his office. That's when he all but dropped the case—approving a decision to end extradition attempts for good.
As one September 1993 Justice Department letter details, prosecutors "contacted our office and advised that they would not be pursuing the case any further at this time."
"Hynes has never been hot to extradite Mondrowitz," charges Lesher. Why would Hynes allow a fugitive to evade prosecution through an old loophole, especially when a new victim has come forward to testify? "It's a compelling argument," observes Mary- ellen Fullerton, who teaches international criminal law at Brooklyn Law School. "If I were the Brooklyn D.A., I'd consider it."
Bruce Zagaris, an extradition lawyer in Washington, D.C., notes that the U.S.-Israel treaty is being updated, and that the new protocol would make it even easier to deliver up someone, like Mondrowitz, whose alleged acts haven't fallen neatly into the list of specified offenses. The protocol would replace the list with a provision defining any offense extraditable "as long as the crime is punishable by one year or more and as long as it's a crime in both countries."
So, Zagaris offers, "Yes, I'd say this guy is extraditable. And under this new protocol, there is even more of a chance that he could be."
At the very least, argues Bierschbach, the Cardozo professor, "you cannot flat-out say that he's not extraditable. You can make the argument, but it's weak."
Even so, Hynes spokesperson Jerry Schmetterer maintains, flatly: "After reviewing the files and consulting with authorities, our position remains that under the current treaty, Mondrowitz cannot be extradited. . . . He was charged with sodomy and the treaty has changed. It's our position this change is not retroactive."
Told that experts say otherwise, he snaps, "That's fine. You write your story. This is the position of the district attorney."
---
Maybe Hynes has
his own reasons for not pushing extradition. In Brooklyn politics, the Orthodox community can wield considerable influence. Political consultant Hank Sheinkopf explains, "They vote, and they vote in large numbers often." He estimates that the Orthodox population accounts for some 30 percent of the borough's electorate, from Williamsburg to Crown Heights, Borough Park, Flatbush, and Midwood. Especially in ultra-Orthodox areas, rabbis tend to pick candidates and congregants cast votes accordingly.
"The rabbis are very important because they tell their followers who to get behind," says Sheinkopf. For a politician, he says, that means "you have to play to them."
Hynes has worked hard to court the community over the years. In 1990, he became the first D.A. in the city to convene a Jewish advisory council, which kept leaders abreast of cases involving Jewish defen-dants or complainants. The council is now defunct, says Schmetterer, replaced by the office's full-time liaison to the Hasidic community, Henna White, herself a Lubavitcher. (He refused to let the Voice interview White for this article, saying, "It wouldn't be her place to talk about this case.") Hynes has been commended for launching such initiatives as Project Eden, a Hasidic-sanctioned program that reaches out to ultra-Orthodox victims of domestic violence.
Aaron Twerski, the dean of Hofstra Law School and a former council member, describes Hynes's relationship to the Orthodox community as "quite positive." He explains, "Hynes is a presence in the community. He's been responsive."
But Hynes has bumped up against the community before. The most dramatic example came in 1999, when the D.A.'s office charged a prominent Hasidic rabbi named Bernard Freilich with witness tampering and intimidation for allegedly making death threats against an Orthodox woman who was to testify in a sex-abuse case. The community reacted with fury, organizing demonstrations, accusing Hynes of anti-Semitism. Freilich wound up acquitted at a 2000 trial.
Lesher says the D.A. has a habit of backing down from prosecutions that Orthodox rabbinical leaders would rather handle themselves. He has researched two instances where the D.A. initiated criminal proceedings against accused Hasidic abusers, only to let them fizzle. In each, he notes, "it was community opposition that spelled the difference."
With Mondrowitz, the Orthodox community hasn't exactly clamored for justice. No one dared talk publicly about the scandal when it broke. Catalfumo says rabbis refused to answer questions, parents refused to file complaints. Even those who wanted to see Mondrowitz punished—or dead—wouldn't cooperate with authorities, the detective says, for fear their kids would become tainted by a trial.
Catalfumo doubts the D.A. would do anything to upset the Orthodox community today, and he doubts the community would want to revisit the case. "Let's face it, I don't think they're interested in seeing this surface again," he says. Indeed, Orthodox rabbis and politicians who remember the Mondrowitz case declined to talk about it with the Voice. One Borough Park resident with ties to the same Hasidic sect as Mondrowitz offered this opinion: "Once a case has been put to sleep, it's best to leave it alone."
Twerski, of Hofstra, advocates "zero tolerance" in the community for sexual abuse. But when told about the newly vocal Mondrowitz victim and his desire to reopen the case, Twerski replies, "I don't know what to say about that. That's an old, old case and I'm not going to comment on it."
Jaus, for her part, bristles at the suggestion of special treatment. In 2000, her bureau got word from State officials that Mondrowitz was returning to the States. It contacted the original four victims. It had D.C. police ready to arrest him. He never showed up.
"If we heard this information again, we'd do the same thing," she states.
Those words offer little consolation to Abe. Sitting in the dining room at his attorney's suburban home, Abe hunches over the table, his arms across his chest, his eyes on his Blackberry, as he relays what he told prosecutors on June 7. How Mondrowitz had begun molesting him during a counseling session one day, and wound up making it routine. How the psychologist had even invited him upstairs, and fondled him there.
Abe had hoped his testimony would inspire Hynes to push for extradition, he says. "I came away with the realization that my experience is a footnote in a case the D.A. won't do anything about."
At least, Abe believes, not without incentive. So on June 24, he contacted an anonymous blogger known as Un-Orthodox Jew, who has posted controversial diatribes about sexual abuse and cover-up in the Hasidic world. Abe posted his own entry, writing:
"MONDROWITZ ALERT! ALERT! ALERT! ALERT! ALERT! Has anyone contacted you as being a victim of Avrohom Mondrowitz? . . . There is renewed interest in this case & . . . I am trying to find out if other victims have also recently come forward so that we can pool our resources & pressure the DA's office."
So far, he's received little response, though two Orthodox Jewish men who claim to be victims of Mondrowitz have contacted the Voice, expressing a desire to bring him back.
To Abe, it all seems so upside down—the way Hynes didn't push for extradition in 1993, the way he won't now. That his alleged abuser can live in Israel, his whereabouts known, yet run around scot-free, seems almost as bad as the abuse.
As Abe confides, "That makes it seem like a big slap in the face by the D.A."
===================================================================
http://www.thejewishweek.com/viewArticle/c36_a14279/News/New_York.html
Mondrowitz Extradition Case Thrown Into Limbo
Avrohom Mondrowitz being led into a Jerusalem courtroom for a hearing last year shortly after his arrest on charges that he sexually abused children in Brooklyn two decades ago.Getty Images
by Hella Winston
Special To The Jewish Week
The latest twist in the long-running extradition case of alleged Brooklyn pedophile Avrohom Mondrowitz has apparently thrown the case into limbo and for the first time in decades raised the specter that Mondrowitz might be tried in Israel.

In what is being seen by some close to the case as an unexpected move, the Israeli Supreme Court last week gave prosecutors representing the state until Dec. 23 to gather additional information on whether Mondrowitz — who was charged with sexual crimes against children in Brooklyn over two decades ago — can be tried in Israel.

Given that a lower court in Israel earlier this year had already deemed Mondrowitz extraditable, observers were optimistic that last week's final appeal would result in a decision to send

him to Brooklyn to stand trial. Instead, questions raised by the justices have generated concern that this may not happen, though no decision has yet been made.
"[Some of the justices' questioning] really seemed to come out of left field," said Michael Lesher, an attorney who represents several Jewish adults who allege that they were molested by Mondrowitz as children. "I'm simply surprised, considering that there was a 40-page, detailed decision written by the lower court which really [went into] all the issues," Lesher said.

Some of those issues relate to the possible implications of recent changes to the U.S.-Israeli extradition treaty and an Israeli statue providing for the timely prosecution of crimes.

On Dec. 8 Israel's highest court heard an appeal from attorneys representing Mondrowitz, a former Brooklyn youth counselor who fled to Israel under charges of child sexual abuse and is now in the final stages of extradition proceedings that began with his arrest in Israel in November 2007. A Jerusalem court had deemed Mondrowitz extraditable earlier this year, but he is now challenging that determination in the Supreme Court.

The Mondrowitz saga began almost 25 years ago, when, in 1984, he fled to Israel and was indicted in absentia on four counts of sodomy and eight counts of sexual abuse in the first degree against four non-Jewish children in Brooklyn. (While Jewish children were among Mondrowitz's alleged victims, they were not part of the grand jury that indicted him and thus not part of this case).

Then-District Attorney Elizabeth Holtzman pursued Mondrowitz's extradition, but was thwarted in 1985 when Israeli officials informed the United States that extradition would be impossible because sodomy was not included in the Israeli definition of rape and thus, under the existing terms of the U.S.-Israeli extradition agreement, was not an extraditable offense (as was rape).

While federal documents reveal that the U.S. subsequently asked Israel to consider expelling Mondrowitz, no action was taken. Then in 1988, Israel amended its rape law to cover the act of homosexual rape. While a telegram from the American Embassy in Tel Aviv to the State Department in Washington, D.C., noted the change, it is unclear from the record whether Holtzman was ever made aware of it.

In 1993, three years after he was elected Brooklyn district attorney, Charles Hynes approved a decision to end extradition attempts for good. Hynes' office resubmitted an extradition request in 2007, however, after a change in the treaty between the U.S. and Israel was made that provides for the extradition of suspects who face at least a year in prison, regardless of the offense.

While Lesher and some experts have challenged the notion that extradition would have been impossible prior to the 2007 change in the treaty, this turn of events nonetheless created a sense of optimism about the possibility that Mondrowitz would be returned to Brooklyn to stand trial — until now.

According to a transcript of last week's Supreme Court hearing, one of the justices asked whether, in light of the fact that the scope of extraditable offenses is broader than under the previous treaty, it is consistent with Mondrowitz's fundamental rights to extradite him under a treaty that took effect after the crimes in question have been committed.

Further, because Israel has a statute that someone charged with these crimes would have to be brought to trial within 10 years of the alleged offense, questions of timeliness were also raised by the justices.
According to Lesher, "the unstated issue that is not clarified here is whether that 10-year limit would apply if the suspect is not returned for trial even after an extradition request is made."

Lesher believes that neither of these issues should bar Israel from extraditing Mondrowitz. Citing a prior case dealing with the issue of retroactivity and apparently referenced by the lower court, Lesher said, "I think this case law shows very clearly why the retroactive application of an extradition treaty does not raise ex-post facto concerns. ... I am surprised that the issue came up in the hearing."

The justices also raised the possibility of trying Mondrowitz in Israel and, despite objections by the state's attorneys citing the logistical difficulty and expense of such a prospect, asked the state to consult on it further.

The attorneys for the state did not return an e-mail seeking comment.

According to documents obtained by Lesher, the issue of trying Mondrowitz in Israel was raised once before, in 1986. An internal Justice Department memo from that year asks, "What sentence is reasonable to expect would be imposed on Mondrowitz were he tried and convicted on our case in Israel?"

The memo then cites Marvin Hankin, senior assistant to the state attorney in Israel, as estimating that Mondrowitz might serve a total of "2-3 years," noting that "there are very few sodomy cases in Israel."

An even more pessimistic estimate is found in an embassy cable to the State Department, dated Nov. 3, 1986. "The possibility of bringing the case to trial in Israel has been bandied about. In addition to the usual problems of transportation of witnesses and compatibility of evidentiary standards, however, there apparently is another factor that might weigh against any leap toward this option: under Israeli law, it seems that it would be possible that, even if convicted, Mondrowitz could face as little as 18 months imprisonment," and even less "with time off for good behavior."

According to Lesher, under New York law, Mondrowitz could spend "several decades in prison" if convicted of multiple counts of Class B felonies with which he is charged.

A spokesman for Hynes, whose office requested the extradition last year, says the district attorney is "watching the process very carefully and is prepared to deal with the result no matter which way it goes."

Survivors for Justice, an organization formed by people who were sexually abused as children in Orthodox communities and that counts several alleged Mondrowitz victims among its members, is working with a law firm in Israel to prepare an amicus brief asking the Israeli high court to uphold the lower court's determination to extradite Mondrowitz.

A spokesman for the group told The Jewish Week that "We believe that after 25 years of justice deferred, Mondrowitz's victims deserve to see him returned to Brooklyn and tried by the Brooklyn DA, who has on many occasions stated his commitment to see justice done in this case."
===================================================================
From The Unorthodox Jew Blog (UOJ)
http://theunorthodoxjew.blogspot.com/2008/12/mondrowitz-extradition-at-stake-too.html
As Israel's Supreme Court approaches a final decision on whether or not to extradite Mondrowitz to stand trial in Brooklyn -- we're talking about the man police believe sodomized or sexually abused hundreds of boys, nearly all Jewish -- the silence around the process is deafening! All the more so because things may not be going smoothly.

We know Mondrowitz has powerful supporters in Israel. And the shameful record of Brooklyn D.A. Charles J. Hynes in this case shows he'd be only too happy never to have to prosecute Mondrowitz... never to have to expose his enablers and accomplices in the community... never shine a light on a case his office has avoided ever since he took office. Well, IF WE STAY QUIET -- HE MAY NOT HAVE TO!!!

The Jewish Week is already reporting that Israel's top court may be considering a "compromise" by which Mondrowitz isn't sent back -- and gets tried, IF AT ALL, in Israel... probably meaning a much lighter sentence, and certainly keeping other guilty parties -- the D.A., Ohel, the rabbis who covered for Mondrowitz for years, and anybody he may have traded victims or kid porn with (who knows?) -- conveniently out of the picture.

I've learned more. And it's not comforting!

Israel's Supreme Court has ordered the State's attorneys (who have been pushing for extradition) to file additional papers by TUESDAY, DECEMBER 23. The judges -- who apparently didn't manage to read the record or the lower court's 40-page decision that explained in detail why Mondrowitz should be sent back for trial -- are suddenly worried that the alleged child rapist's "rights" may be jeopardized if he gets sent back so many years after his crimes were allegedly committed. Never mind that his prosecution is certainly timely under New York law -- because he was a fugitive since 1984, New York's "speedy trial" time limit didn't run. But maybe, asked the judges, it's all America's fault, not the alleged rapist's? Maybe America caused all the trouble by not renewing the extradition request until 2007?

Now, remember: NOBODY wanted Mondrowitz put on trial until WE got active and started demanding it -- with information in our hands provided by committed people like attorney Michael Lesher and Mark Weiss, and Michael's other (anonymous) clients. Israel refused Elizabeth Holtzman's extradition request in 1985; the Shas Party's Yitzchak Peretz refused to deport Mondrowitz after that; Roni Milo, the next Interior Minister, refused to deport Mondrowitz in 1987 after promising he would; then Charles Hynes got elected D.A. in 1989 and pulled the plug on the case.

Remember how the documents Michael Lesher finally extracted from the State Department showed that Hynes closed the Mondrowitz case, saying he wouldn't seek Mondrowitz as long as he stayed in Israel? Because he knew damn well that Israel didn't want him brought to justice any more than Hynes did!

Well, they still don't want it -- and now the dodge they seem to be trying is claiming that since America dropped the ball on the extradition request, it's not fair to Mondrowitz to send him back to Brooklyn after all... now that a wised-up community is not just listening to the Herbert Bomzers and other "rabbis" who said (you saw it on TV!) "Leave him alone." We want justice! -- and they know it -- and that's exactly what they DON'T want.

Okay: the facts. Michael has given me permission to post two things here. One is a copy of a document that proves the "America dropped the ball" argument is false. Oh yes, Hynes, dropped the ball (if he ever carried it in the first place); it was criminal of him to drop the case, it was unpardonable of him not to use all his efforts to try to get this animal returned to face his accusers. BUT, this embassy cable from September 9, 1988 shows that even back then, after Israel's criminal law expanded to include sodomy, leading Israeli officials were not interested in extraditing Mondrowitz UNTIL A NEW EXTRADITION TREATY WAS SIGNED... which didn't happen until 2007.

CLICK ON DOCUMENT TO ENLARGE!


Read it and weep -- with anger! Mondrowitz's lawyer is lying, and if he gets away with it, Israel's Supreme Court will be lying too!! I'm also posting (with Michael's permission) an urgent letter he faxed to the Attorney General. The letter outlines the legal reasons why there should be NO question about sending this wanted, indicted multiple felon back to Brooklyn for the trial he deserves -- finally!

The amazing this is, with so much in the balance, NO ONE IS SPEAKING. Not the State Department (which ought to want to see its own extradition request carried out); not our Justice Department; not Israel's Ministry of Justice; and certainly not D.A. Charles Hynes!! Not a word from any of them!

Why not? Well, actually, we don't have to ask that... do we? What DO we have to do? Obviously, DO THE TALKING!! Our voices helped push the D.A. into finally asking for extradition in the fall of 2007; the publicity we generated got Mondrowitz arrested in Israel in November 2007; now we need to go public again! Let's let the people in charge know that we're watching this case, and if there is any dodge, any deal, any mealymouth about Mondrowitz's "rights," ANYTHING that keeps him from being sent back for trial -- we're going to have to know the reason why! And someone may pay for it!! No justice -- no peace!

Here's some contact information for people who ought to hear from the public: At the Brooklyn D.A.'s office, there's the sex crimes unit head:

JausR@BrooklynDA.org. You can let her know we'd appreciate hearing her voice, and her boss's, loud and clear, saying that Mondrowitz's extradition to Brooklyn is very important to the justice system and the entire community. She and Hynes have said they want to prosecute Mondrowitz: this is the right time to say that again, strongly. You might also ask her if she's sitting on the Mondrowitz file to frustrate a Freedom of Information Law request made over a year ago, in order to shed light on Hynes' recent actions in the case -- and still not responded to! You can also contact the D.A.'s Orthodox community liaison: WhiteH@BrooklynDA.org.

At the U.S. State Department, the public communication division phone: 202-647-6575. The main switchboard is 202-647-4000.

Israel's Ministry of Justice, public inquiries fax: 011-972-2-646-6357.

The message for these characters is that we're watching this case closely, we believe the law and facts clearly favor extradition and we hope their efforts toward achieving that result are completely successful.

Finally, there's Israel's High Court, Public Affairs Department. Phone is 011-972-2-675-9612 and 011-972-2-675-9613. I believe their email address is: tlunotrasham@court.gov.il and the fax number is 011-972-2-651-3191.

Bear in mind it's not proper to try to influence judges, so the message there is more or less: we are very interested in this case and its status; we know its history; we intend to continue to follow its progress. If they get enough calls, the word is sure to filter through. Remember: final briefs are being filed on TUESDAY, DECEMBER 23. A decision from the court will follow. If we wait until a dirty deal is announced -- God forbid! -- it will be too late.

THIS IS THE TIME TO MAKE OUR VOICES HEARD. Let's show that there are still responsible citizens out there, and Jews who care more for the victim than the criminal!
==================================================================

UOJ is amazing at what he does best - uncovering what was covered up by the slime buckets and dreks of the earth. Please do not stay silent. Most importantly, use the contact information above for the powers that be to force the extradition of Abraham Mondrowitz to the U.S.A. NOW!!!!!!!
The 3 documents below are courtesy of the UOJ blog.
http://theunorthodoxjew.blogspot.com/2008/12/mondrowitz-extradition-at-stake-too.html